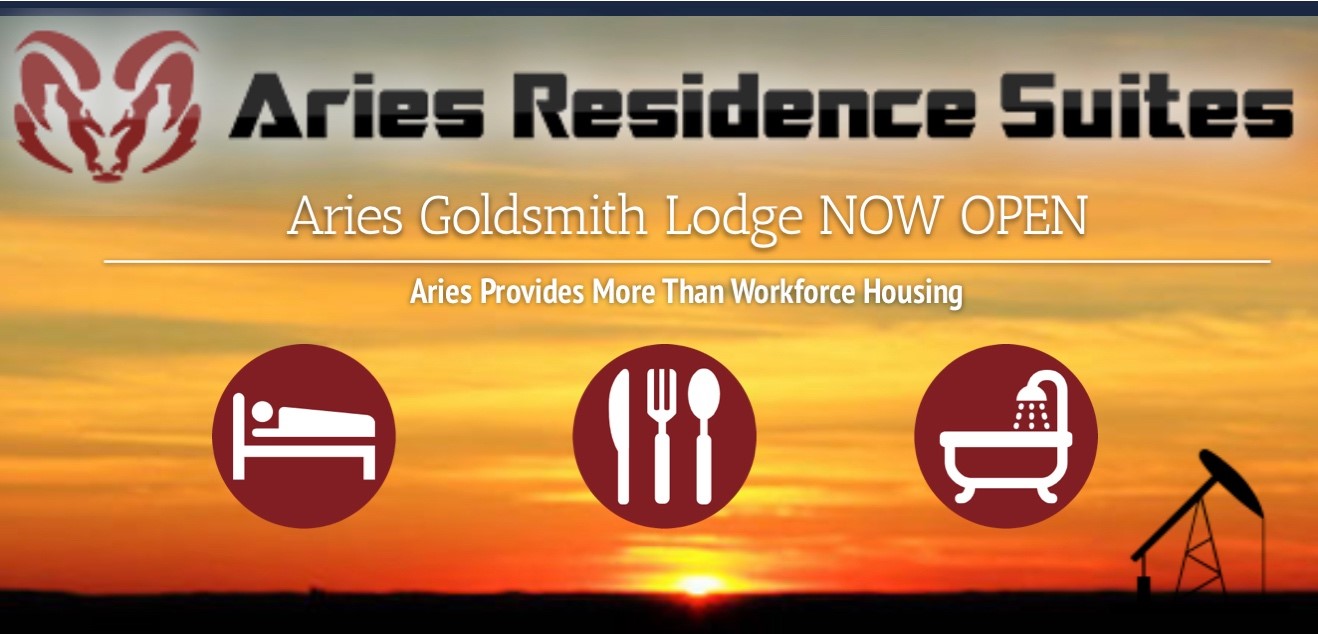 Aries Residence Suites recently hosted the grand re-opening of their Aries Goldsmith Workforce Housing Lodge located in Goldsmith, TX just outside of the Midland/Odessa area. The public was invited to come tour the updated Texas workforce housing location, enjoy a complementary lunch catered by Brown's BBQ LLC, and meet Aries Goldsmith's friendly staff!
The Goldsmith Lodge opens December 7th.
Minutes from Odessa, The Goldsmith Workforce Housing Lodge offers fully furnished private suites, so all you need to do is bring your suitcase.  Aries provides guests with everything one could need in terms of living amenities, and even includes housekeeping every week and on-site management to make sure guests remain as comfortable as possible.
View full Aries Goldsmith Lodge Brochure here.
About Aries Goldsmith Lodge
Farm to Market 866 Goldsmith, TX 79741
Capacity:
Aries Goldsmith Lodge
244 rooms
40 VIP Single Occupancy Rooms
204 Jack & Jill Rooms
Locker room, Rec Room, Classroom, Theater, Dining Hall Onsite
Amenities
Satellite TV in every room
All utilities included
Housekeeping 3 times a week
Linen change once a week
Laundry facility (non-coin operated)
24/1 security
Heating and AC in every unit
Kitchen
Full Service kitchen/dining
2800 SF
Three meals a day
Grab and Go options
24/7 operation
Recreation Facilities
Full recreation room
Theater Room
Full Gym
Horshoes pits/bean bag toss pit
Gazebo
Did you know that "getting a return" on your workforce housing is a thing?
Whether you're looking for short-term housing for yourself or your workforce, one this is for sure: it better be special – because home isn't a place, but a feeling. Aries isn't interested in just putting a roof overhead and a bed to sleep in.  Aries is interested in going well beyond by offering the best guest experience possible, and connecting you with the community so that we can provide you with a place that truly feels like home.
In fact, would you like to know the best places to eat nearby the Aries Goldsmith Lodge? Aries has you covered! Download our complimentary "Best Places To Eat Near Your Aries Residence Suite" brochure (don't fret locals, we made sure to include Pollos Asados Rio Grande, Dee's Bistro, and Bob's Roadhouse. For the record, this isn't a food blog. However, we know the value of a great meal when it comes to extended stay travel. You're welcome, and the folks at Aries Goldsmith Lodge look forward to meeting you.
Aries Residence Suites offers premium corporate and group housing in the Permian Basin, as well as several other hubs of energy resource production. For more information visit http://www.ariesresidencesuites.com  or call (855) 657-7773.
RAM (Reliant Asset Management) About Our Parent Company
Reliant Asset Management is a leading specialty rental company providing premier modular space solutions to customers throughout North America. From remote workforce housing to single and multi-story buildings for growing businesses and organizations, Reliant Asset Management and its subsidiaries support a wide range of modular needs including design, manufacturing, transportation, construction, and financing.