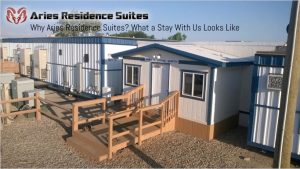 Though there are many workforce housing and extended stay accommodations providers out there, very few are as committed to providing the highest quality of comfort and satisfaction from our guests. Each of our locations across North Dakota, Texas and Oklahoma are individually unique and tailored for the ultimate "home-away-from-home" experience.
What does a potential guest at one of Aries Residence Suites' look like? Here are some questions to consider.
How long do I need to stay?
Do I want high-speed internet? HD Television?
How about extra-comfy mattresses?
Will I only accept the best possible service?
If you're interested in learning more about our accommodations, call us at 1-888-598-6689.
If you'd like to view our locations across the U.S, or check our rates and availability, click here!
Guests at Aries Residence Suites are treated to three square meals a day, exceptional 24/7 staff that are available to serve and assist you, and comfortable living quarters that are spacious and packed with the latest amenities.
Download our brochure, 'Let's Eat Out With Aries Residence Suites" to see the best food from the best of local restaurant, diners, and dives around our locations!