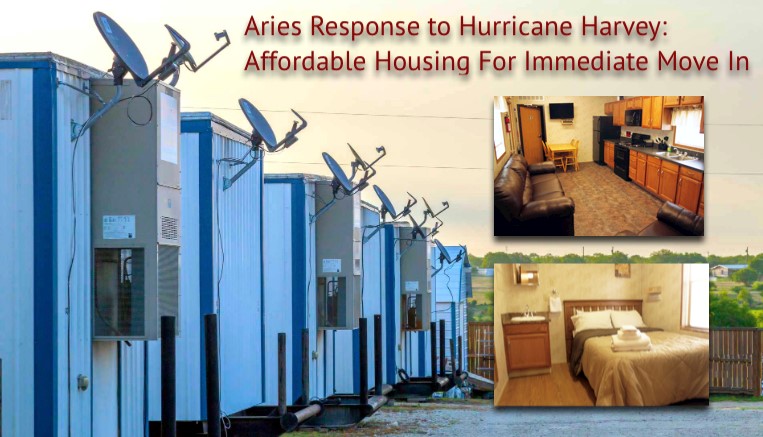 For Hurricane Harvey Relief Housing, please do not hesitate to contact Aries Residence Suites at 877-721-4363.
Hurricane Harvey has proven relentless, devastating the gulf coast of Texas and causing extensive personal and property damage. As search and rescue operations continue, families are forced to retreat from their homes and shelters are quickly filling to capacity, and finding refuge becomes more difficult and overwhelming.
That's why we at Aries Residence Suites are here to help those seeking refuge. Aries currently has affordable, temporary housing that is ready for immediate move-in at our Texas locations. In addition to providing shelter from the storm, Aries' housing camps provide convenient amenities, including Wi-Fi, laundry facilities, and fitness equipment.
Typically used for meeting the housing needs of the oil field workforce, each housing unit is designed to feel like a home away from home. Each unit is fully operational, outfitted with kitchenettes, wi-fi, and high-quality bedding. "It's important to us that we make sure we are part of the solution when mother nature takes a turn… our extended stay accommodations will hopefully provide much needed relief for displaced families in South Texas." Comments Katie Roman, Director of Operations & Sales at Aries. "You just never know what nature will bring. So, we just make sure we're ready at all times."
News reports state that heavy rain and flooding is expected to continue for another week. Aries Residence Suites is available to assist in avoiding the final blows of Hurricane Harvey. We have a proud and demonstrable history of providing emergency housing for victims of natural disasters, namely the devastating Canadian wildfire of May 2016, "The Beast."
Aries serves Texas through several locations including: Asherton, TX, Goldsmith, TX, Karnes City, TX, Odessa, TX, Ozona, TX, Three Rivers, TX, and Tilden, TX.
For Hurricane Harvey Relief Housing, please do not hesitate to contact Aries Residence Suites at 877-721-4363.
Reliant Asset Management – About:
RAM specializes in supplying remote work force and commercial modular buildings for a wide range of industries and applications across the U.S. and Canada. The company is a single source contact and contract for all services necessary to ensure that every aspect of the required structure is met or exceeded. With a seasoned team of modular building experts, Reliant provides a wide range of integrated offerings including customized design, manufacturing, transportation, construction, support services and financing to name a few. In addition to being named to the Forbes list of America's Top 20 Most Promising Companies, Reliant was also ranked number 3 on the 2014 Inc. 500, Inc. Magazine's annual list of the fastest growing private companies in the U.S.