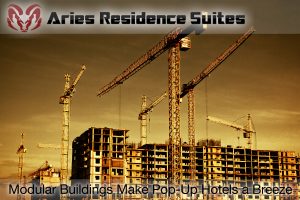 If you've ever been on vacation, you've probably been in a modular construction hotel! Developers in the hospitality industry only get into the business because the return on investment is hot! The biggest drag? The time it takes to complete a hotel.
Places like Yellowstone National Park and the popular Xanterra Parks and Resorts know that subzero temperatures in the winter means: no construction. Not only does traditional building run into problems with weather (think the inability to work or too cold for some surfaces to work together during construction), when a business' goal is to start making money as quickly as possible, modular is the missing piece that allows schedules to be significantly expedited.
That's exactly why when Xanterra Parks considered building Canyon Lodge & Cabins, they immediately chose modular. The redevelopment cost $70 million, will last for decades, will reduce environmental impact, and instead of taking 3-5 years, was able to launch the first three buildings in just 6 months.
Speed to market is the largest and most justifiable benefit, and hospitality developers are happy even if costs are 'neutral' because that means guests can check in 3-4 months sooner than expected. It's icing on the cake when modular comes in cheaper. Well-known hotel brands are implementing modular for corporate locations and recommending them to franchisees where there is flexibility in design and building and consistency in brand and aesthetics.
Hotels like AC Hotel in Oklahoma City, Pod Hotel in Brooklyn New York, and many others are proof that the hotel industry is moving into modular construction. Why? Additional benefits beyond timeline and cost include the ability to quickly change customizations. In the hospitality and tourism industry, guests' comfort and happiness are huge drivers behind the success of a hotel. As demands changes, so does the need for building and construction design to be able to shift quickly to meet those demands. Hotels like DoubleTree by Hilton utilized prefabricated modular pieces to create additions that appeal to tourists and guests.
The hospitality and tourism industry is going into 2017 with promising numbers. The future is clear: less money, less interruption, and less time is what developers and owners are demanding, which means that prefabricated modular building is going to grow in popularity. Get in touch with Aries Residence Suites today by visiting our contact page and letting us know about your project needs!