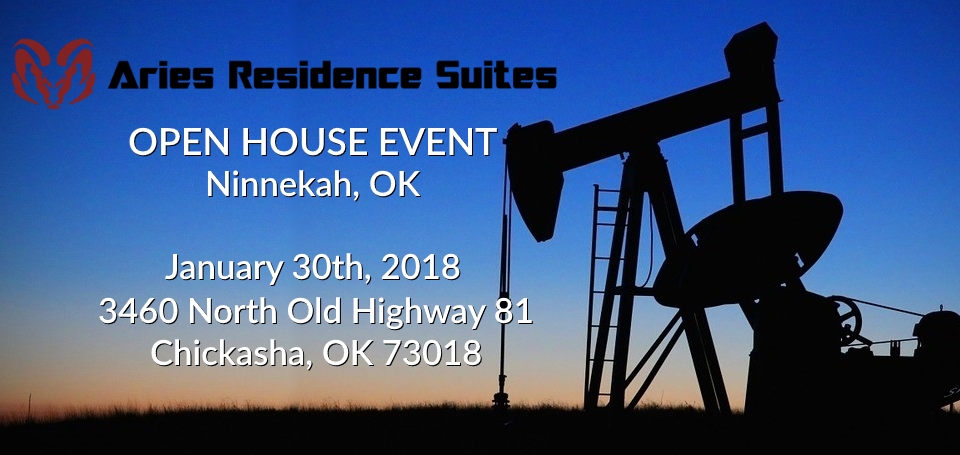 Aries Residence Suites will be hosting an open house event for our Ninnekah, Oklahoma workforce housing camp on January 30th, 2018.
Our Ninnekah housing is designed to give your workforce a spacious and comfortable home away from home experience. Whether you are seeking temporary or long-term lodging arrangements, Aries Residence Suites is fully equipped to meet all of your housing needs.
Aries is committed to providing your workforce all the comforts of home, and truly makes your lodging experience relaxing – keeping both you and your workforce happy and well-rested.
Where is the Aries Ninnekah Lodge?
3460 North Old Highway 81
Chickasha, OK 73018
United States
Location Capacity:
80 Rooms: 60 regular rooms,  20 VIP rooms
Amenities
Kitchen in each cabin
Laundry onsite
Fully furnished
Full Service housekeeping
Internet, Satellite TV, and all utilities included
Camp Management onsite
Gymnasium
Rec room with media
Call (830) 421-3641 or Contact Us for more information.
RAM (Reliant Asset Management) About Our Parent Company
Reliant Asset Management is a leading specialty rental company providing premier modular space solutions to customers throughout North America. From remote workforce housing to single and multi-story buildings for growing businesses and organizations, Reliant Asset Management and its subsidiaries support a wide range of modular needs including design, manufacturing, transportation, construction, and financing.