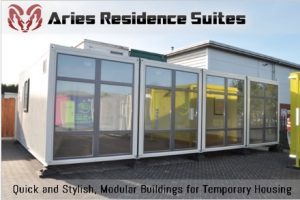 Prefabricated buildings are no longer exclusive to mobile home communities. These days, designers are toying with the limitless possibilities of a used modular building for restaurant and retail industries because, as we all know; time is money! The quicker the space is ready, the quicker a business can begin raking in the revenue!
ARS sister company, Aries Building Systems has pre-used inventory that have pre fabulous possibilities.
Seasonal businesses that can often run short on housing or need extra space are the perfect candidate for retrofitting a prefabricated modular building to suit their needs. In places like Ute, Colorado, seasonal tourism often necessitates the use of temporary modular housing for temporary workers. These modular units can be temporarily placed or installed permanently!
Some business owners might avoid modular buildings because they are afraid that the end product will be boxy and will not match the exterior brand. With the help of the Aries design team, turning a pre-used "pre-fabulous" modular unit into an aesthetically beautiful home is an easy undertaking that will make your competitors temporary housing units look drab in comparison!
The use of these modular units is becoming more commonplace and accepted, and it's not hard to see why. It's becoming so popular in fact, that there are retail developers whose SOLE PURPOSE is to help businesses customize used modular to fit their color and branding.
Sustainability is the latest trend, with many organizations utilizing modular units to house the homeless. Modular has an incredibly diverse potential, and can be installed ANYWHERE in a short amount of time.
Whatever reason you may need temporary housing, Aries has a large stock of preowned inventory that you can utilize and transform into your perfect building. Aries and their design team will work with you tirelessly in order to help transform their pre-owned modular buildings into your next business adventure! Check out Aries' Choosing Modular brochure for more ideas, or visit Aries company Advanced Modular Space and view the prefabricated inventory to see how Aries can fill your business needs!