If you're looking for rental housing in Tioga, North Dakota, you've likely noticed that quality, affordable housing can be hard to find because the rapid growth in the local oil industry has resulted in a lack of rental housing to keep up with demand. Our Tioga location helps fills the gap for individuals, families, and companies by offering housing to meet a wide variety of needs and schedules.

The Housing Crunch
The lack of rental housing in Tioga has been driven by the rapid economic growth from the Bakken oil fields. This growth has lead to skyrocketing job growth, leading to workers and families moving into the area. Put simply, more people have moved into the area than there is housing for.
A High Quality Rental Housing Solution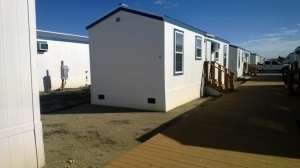 Aries Residence Suites' Tioga location offers high quality rental housing with premium amenities. Our Tioga location offers 2-bedroom cottages, available by the day, week, or month – flexible for short-term, extended stay, or long-term housing needs.
Premium Amenities
Our Tioga rental housing includes the following amenities:
Cleaned weekly by our housekeeping staff
Laundry machines in each housing unit
Kitchen is each cottage
Each unit is already fully furnished
Cost of utilities is included
Enjoy our rec room and gym
On-site staff to meet your needs
Tioga Rental Housing That's A Cut Above
We go the extra mile to ensure our residents love their stay at Aries Residence Suites Tioga – whether you're staying for a day or a year! Contact us to check availability and rates.