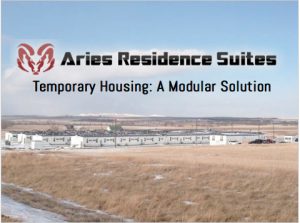 From corporate lodging to student residence; emergency shelter to workforce housing – modular construction is is not only an excellent solution to your temporary housing needs, but when you've finished using your modular structure, it can be repurposed or reused to meet the needs of an entirely new temporary lodging challenge. What's more "green" that temporary housing that can be recycled?! Let's take a peek into the varied applications and advantages of transitory modular housing:
Family Housing for Disaster Relief/Emergency Shelter
Natural distasters, house fires, gas leaks, damaged roofs, or home renovation- depending on the situation, circumstances such as these may leave one family in need of temporary housing – or hundreds of families seeking a place to live after disaster strikes. Aries Residence Suites is no stranger to providing emergency lodging. When the 2016 Alberta wildfires ripped through over a million acres of land, displacing a mass evacuation of 88,000 people from their homes, Aries Canadian Division made 400 accommodations available for evacuees. In this case, as with most predicaments like this, families need more than just a roof over their heads. People need an environment similar to the one they no longer have access to: bedrooms, kitchens, and internet access. Modular suppliers are the best equipped to handle disaster relief due to their modular construction techniques- being able to produce homes in half the time and cost as traditionally built structures. And of course, the ability to utilize or customize existing modular inventory and quickly deliver temporary modular housing wherever necessary.
Temporary Student Housing
The educational sector implements the use of temporary student housing facilities for a variety of reasons. A sudden growth of the student body, planned college expansion, or an emergency occurrence all warrant a need for additional temporary dormitories or other modular facilities. Aries company Class Leasing specializes in "all things education," while Advanced Modular Space may just have the temporary housing you need in their existing modular inventory catalog. All Aries buildings are designed to tolerate the wear and tear of continuous use from their residents, and can be customized to correspond with the aesthetics of the existing campus. Again, new modular housing designed to suit your needs can be ordered, delivered and installed within 3-4 weeks; and if you choose a used modular building from our current inventory , you can have it delivered next week!
Corporate Lodging & Workforce Housing
From weekend stays to month-long business trips, having a comfortable and affordable option for temporary housing is of great benefit to the business traveler or the individual in search of quality workforce housing options. Many of Aries Residence Suites' locations provide recreation rooms, movie theaters, gyms, satellite TV with premium movie channels, WiFi access, laundry facilities, and dining halls, and even 24-hour on-site management – leaving you more time to rest and less time worrying about getting your needs met! On the other hand, if your looking to lease or purchase temporary housing, Aries offers every option under the sun. Whether you're a company or institution that need on-site relief or a homeowner that needs a place to take their family, temporary housing can provide relief and comfort when it's needed most.
Temporary Housing for Military or Government Use
Modular construction has proved itself particularly effective when it comes to meeting the requirements of the ever-changing and ceaselessly demanding military and government setting. Emergency housing that must be delivered immediately or temporary modular bunkhouses or barracks buildings are twice as fast as traditional construction and approximately half the cost. Convenience, quick delivery for time-sensitive projects, and special security requirements are all areas in which Aries Building Systems has vast experience. Our top quality modular construction meets or exceeds traditional building codes and can be built to withstand the scorching desert summer heat or the numbing polar winter frigidity. Aries also offers blast resistant designs, eco-friendly construction, and the capability to deliver our modular housing or facilities to remote locations. What's important to remember is that Aries relocatable buildings can be utilized absolutely anywhere.
With Aries' Turnkey Advantage, you can have every single one of your modular needs taken care of, from finance to onsite management of your facility. If you would like to learn more about How To Choose Your Next Modular Building click here. Or maybe you're already staying at one of our extended stay locations and would like to find out The Best Places To Eat Near Your Aries Residence Suite? Click here. Either way, you'll get the extra bonus of signing up for our quarterly newsletter – an informative and entertaining report from the world of modular building… if we may say so ourselves! You can also call us directly at 1-855-657-7773 or email us at info@ariesresidencesuites.com